Welcome
Welcome to the SWS RnR website. Please explore the site to find out ways in which you can help and visit our news page to see what has been happening.
SWS RnR is a charity which provides much needed and appreciated holidays in Dumfries and Galloway for injured soldiers who have seen active service. In addition, we run two training programmes to help get ex-servicemen through the theory test to enable them to start driver training for heavy goods vehicles. We also provide training to get the SIA qualification which is needed to be employed in the security industry. 
---
The Libor grant of £130500 to help veterans get an HGV driving licence at no cost to themselves.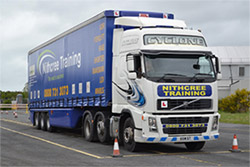 This is open to all veterans throughout the Nation and accommodation can be provided.
To apply please register with Name, address. DOB service number, enlistment date and demob date.
SWSRnR will then guide you step by step commencing with a medical and Driving licence application pack.
We then prepare you for the Theory test which can be done in as little as 7 days.
Once passed, we then pay for you to start the Driver Training at Nithcree here in Dumfries.
This training takes 7 days and we pay for your test and vehicle hire on the day of your test.
Do not worry if you fail the first time a resit policy is available.
---
Robin Hood to pull 20 stone soldier statue to Cenotaph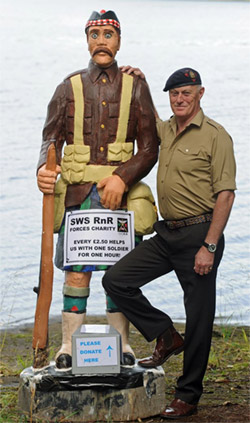 An eight foot tall, 20-stone statue of a soldier is to feature in commemorations to mark the centenary of the end of World War One in London. And helping him get there will be Robin Hood.
The Mossdale man is the boss of forces' charity Southwest Scotland RNR, at Carsethorn. To raise cash for the charity he aims to tow Jock – the model of a Scottish squaddie that acts as the organisation's mascot – by himself from Dumfries using a special trolley in time to be at the Cenotaph next year.
Robin said: "I'll start from Dumfries – where the statue was carved – on October 1, 2018. The police won't let me use the A1 so I'll be on side roads. It's a total of 400 miles.
"The trolley needs work but I've got a year. It needs brakes added as it'll be fine uphill but I might get crushed going downhill."
Robin and Jock will be involved in other commemorations before that. Wednesday marks 100 years since 2nd Lieutenant John Murray died in World War One.
His father, Rev George Murray, created a memorial to him at Mossdale so he could see it from his home across the loch.
Article source:
https://www.dailyrecord.co.uk/news/local-news/dumfries-galloways-robin-hood-pull-10992801
---